Prof. Salimi Participates in FUIW 7th Forum
20/08/2017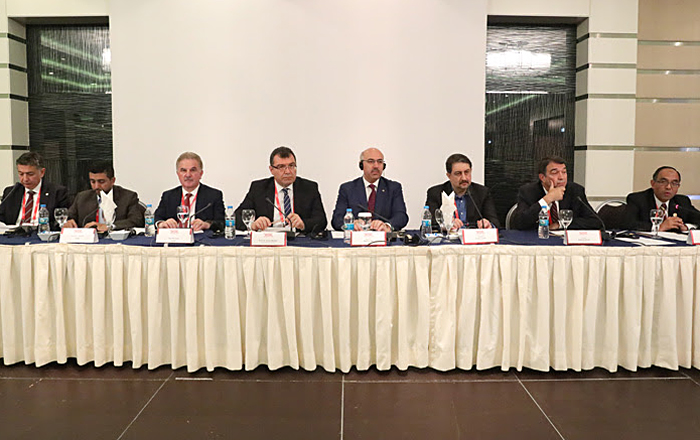 Prof. Salimi Participates in FUIW 7th Forum
Directorate of International Academic Cooperation -
Professor Hossein Salimi, ATU President, together with a number of other Iranian university presidents, participated in the 7th International Forum of the Federation of the Universities of the Islamic World (FUIW), held in Ankara.
To form a new higher education system among Islamic states and in line with enhancing the cooperation among Islamic HEIs, the two-day Forum of the Islamic-World University Presidents was held in Ankara, thanks to the efforts of the Turkish Higher Education Organisation and Turkish Presidents Office.
This Forum was held with the presence of Recep Tayyip Erdoğan, Turkish President; Dr Yekta Saraç, Head of Turkey's Higher Education Board; a number of Turkish Ministers and top officials; and 120 presidents/rectors/chancellors from 30 different countries, from 24 to 26 July 2017 in Ankara. In this Forum, the participants discussed the possible grounds for strengthening the cooperation and establishing academic and international interactions among themselves. The session opened with Dr Erdoğan's welcome speech. Prof. Salimi also delivered a speech on the cooperation of universities from Islamic states.
It should be added that FUIW is a non-political federation of the presidents/chancellors/rectors from Islamic universities and higher education institutes, facilitating their collaborations through establishing a communication network among them. FUIW aims at creating the grounds for strengthening cooperation among its member states, as well as encouraging their cultural and scientific cooperation.
Your comments and questions about our news are highly welcome at
ennews@atu.ac.ir
. Your emails will be answered as soon as possible.
Close
Search in ATU news archive
MORE NEWS

News Archive