Spanish Department to Hold a Specialized Session on Islamic Studies
11/04/2018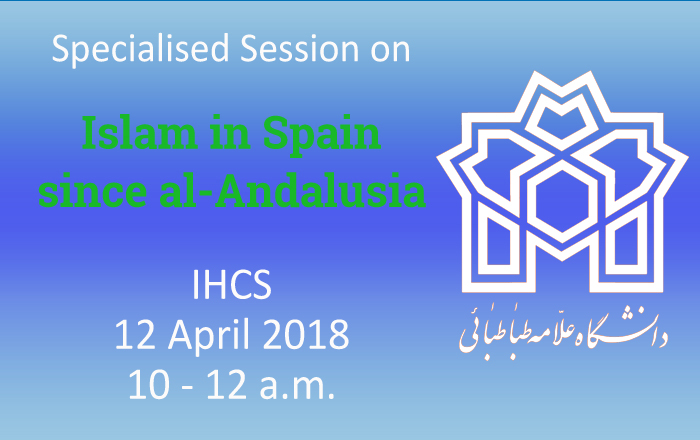 ATU's Spanish Department is going to hold a session on Islam since al-Andalusia in the Institute for Humanities and Cultural Studies on 12 April 2018, 10 to 12 a.m.
Directorate for International Academic Cooperation —
On Thursday, 12 April 2018, the Institute for Humanities and Cultural Studies (IHCS) is going to hold a specialised session on the subject of "Islam in Spain since al-Andalusia" and Professor Luis Bernabe, the Islamic Scholar and faculty member at the Arabic and Islamic Studies Department, University of Alicante (Spain) is going to address the audience.
As reported by Iran Book News Agency (IBNA), Dr Najmeh Shobeiri and Dr Mehdi Mohammadbeigi will be the steering committee of this session. The session is being held thanks to the efforts of the IHCS Council of Text Analysis"s Spanish Language Committee, in collaboration with Allameh Tabataba"i University (ATU) Spanish Department. Introducing Prof. Bernabe, Najmeh Shobeiri said to IBNA, "Prof. Bernabe is a full professor and distinguished scholar in Islamic Studies in University of Alicante and has, for the first time, travelled to Iran thanks to the memorandum of understanding signed between ATU and University of Alicante. In this session, Bernabe is going to talk about issues leading to Muslims" departure from Spain and the monuments they have left in Spain." According to Shobeiri, the speech will be delivered in English and Spanish and professors and researchers in Islamic and al-Andalusia Studies are welcome to participate in this session.
The session will be held from 10 to 12 a.m. in the IHCS, located at the corner of Dr Sadegh Ainehvand St., Kurdistan Highway, Tehran.
Your comments and questions about our news are highly welcome at
ennews@atu.ac.ir
. Your emails will be answered as soon as possible.
Close
Search in ATU news archive
MORE NEWS

Jul. 1, 2020
June 21, 2020
June 16, 2020
May 21, 2020
Apr. 25, 2020
Apr. 20, 2020
News Archive