MoU Signed with Eurasian National University
19/11/2018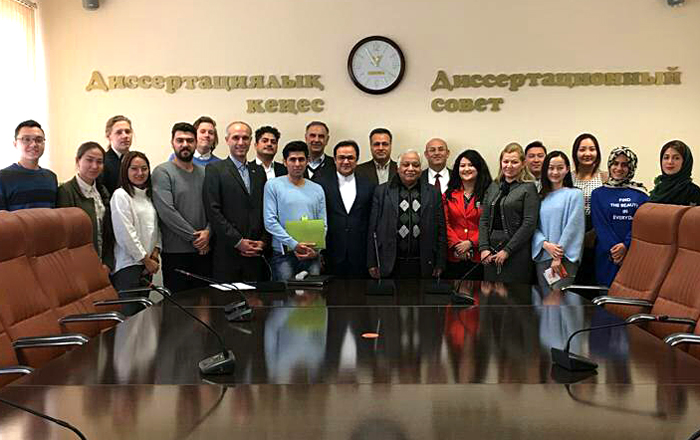 In their visit to Astana, a delegation of students and lecturers from ATU signed an MoU with the Eurasian National University.
Directorate for International Academic Cooperation —
In the six-day trip to Astana, a delegation from Allameh Tabataba"i University (ATU) signed an MoU with the Eurasian National University (ENU). The delegation consisted of ATU faculty members and students.
Dr. Majid Reza Momeni, Dr. Seyyed Mohammad Tabataba"i and a number of students from ATU Department of Regional Studies attended this event. Development of bilateral academic cooperation, discussing the establishment and implementation of joint courses in international relations at the Masters and Ph.D. levels, as well as participation in workshops and scientific visits were among the goals of this scientific trip.
During this trip, besides academic interaction with faculty members and students from ENU Faculty of International Relations, ATU students participated in several classes and workshops. ATU lecturers also delivered speeches in the "Role of the Republic of Kazakhstan in Central Asia" and "Iran and Kazakhstan"s Understandings of Regional and International Developments" workshops.
Your comments and questions about our news are highly welcome at
ennews@atu.ac.ir
. Your emails will be answered as soon as possible.
Close
Search in ATU news archive
MORE NEWS

Aug. 3, 2020
Aug. 1, 2020
Jul. 25, 2020
Jul. 21, 2020
Jul. 15, 2020
Jul. 14, 2020
May 5, 2020
News Archive