An Italian Delegation Visits ATU FCS
28/05/2017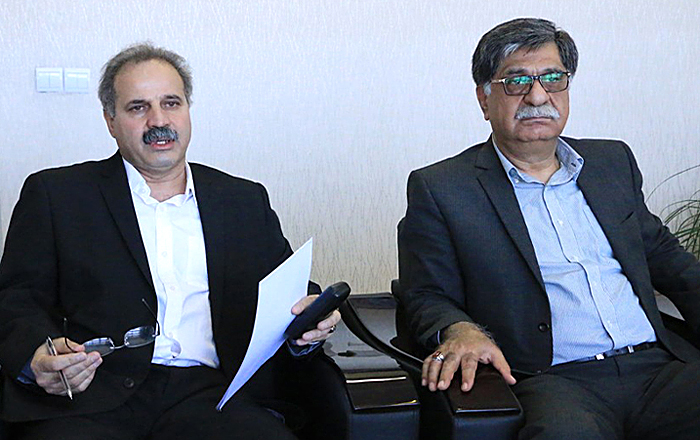 An Italian Delegation Visits ATU FCS
Directorate of International Academic Cooperation -
Dr Arnoldo Pierre-Louis and his colleagues from University of Rome had a visit to ATU on 18 April 2017.
During this visit held in Dean of the Faculty of Communication Sciences' (FCS) office, Prof. Forghani, presented his Faculty briefly, saying: "The law to establish the separate Faculty was passed in 2004, though its history goes back to more than fifty years ago when such disciplines as public relations, journalism, translation, and marketing were taught here." He then added that currently the public relations, journalism, and communication studies and media management are offered in this Faculty.
Prof. Forghani then added that many outstanding journalists of Iran are graduates of this Faculty, thanks to the activities of the twenty-year old Centre for Communication Research. Forghani then pointed to other capabilities and facilities of his Faculty, namely the Centre for Cultural Research, an Audio-visual Recording Studio, Photojournalism Workshop, and the ATNA News Agency. He then added that currently more than 1000 students are studying in this Faculty and its main focus is on increase its international presence and visibility. Forghani pointed to his plan to establish the new fields of Communication of Science, and Environment and Health. He added that, among all ATU Faculties and Colleges, Faculty of Communication Sciences has the largest share of foreign students.
Dr Arnoldo Pierre-Louis then introduced the New Cassano University of Rome and pointed to its twelve thousand students, saying: "A journal and a radio station is being managed by our students. Our university has different fields in humanities and engineering." Pierre-Louis then hoped his university can further its relations with ATU FCS. In the end of this visit, the Italian delegation had visits to FCS classes, Library, and ATNA News Agency.
Your comments and questions about our news are highly welcome at
ennews@atu.ac.ir
. Your emails will be answered as soon as possible.
Close
Search in ATU news archive
MORE NEWS

Nov. 19, 2018
Nov. 19, 2018
Nov. 19, 2018
Nov. 14, 2018
Nov. 13, 2018
News Archive