Lebanese Academic Delegations Visits ATU
20/08/2017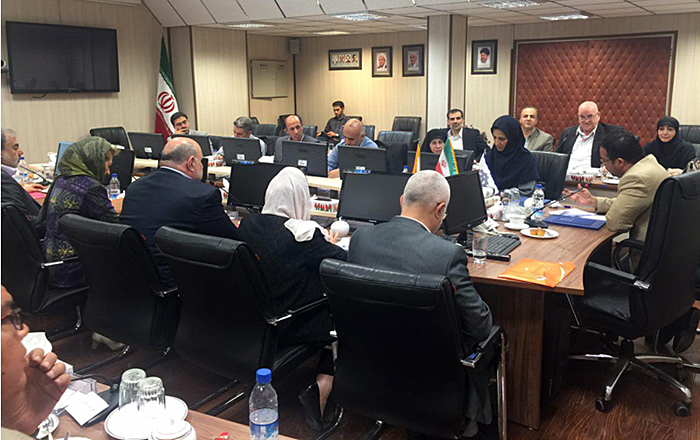 Lebanese Academic Delegations Visits ATU
Directorate of International Academic Cooperation -
A delegation of top officials and teachers from Lebanon State University visited ATU and discussed common grounds for cooperation.
On Monday, 14 August 2017, ATU hosted a delegation of academics from Lebanon State University (LSU). This visit, organised with the participation of professors from ATU's Faculties of Persian Literature and Foreign Languages (PLFL), Management and Accounting (MA), Theology and Islamic Knowledge, and Economics, Dr Zakiani, Dean of the PLFL welcomed the Lebanese delegation and pointed to the friendly relations among various religious denominations in Lebanon and mentioned Imam Mousa Sadr as an exemplary figure. He then introduced ATU and its special position in Iran, and expressed ATU's willingness to cooperate with LSU.
Dr Olfat, Dean of MA Faculty, then introduced her corresponding Faculty and its superb capabilities, inviting LSU officials to have cooperation with ATU, especially in the field of tourism management.
The session continued with Dr Tishehyar, ATU Director of International Academic Cooperation, reminding the audience of the successful organisation of the internation conference on the "Cultural Dialogue between Iran and the Arab World" in February 2017 leading to the development of collaborations between Iranian and Arab universities, and mentioned that ATU has to date signed above 60 MoUs with universities and higher education institutes abroad, showing internationalisation as one of the priorities of ATU. She then added that ATU is currently having a close cooperation with Russian universities and actively interacting with three European and five Iranian universities within the framework of the IHEI Project.
Dr Abou Fayyaz, head of the Lebanese delegation and Dean of the LSU Faculty of Tourism then introduced the delegation, consisting of two members of LSU Board of Trustees and a number of faculty members, and expressed the willingness of LSU President to expand collaborations with ATU. Afterwards, Dr Salim Matrisi, professor of economics and management, invited ATU professors to publish articles in Arabic, French and English in LSU's scientific articles. Dr Salmi Zakir, another faculty member at LSU then suggested the exchange of journals and publishing joint articles in the two institutes' journals. The meeting was concluded with the parties signing an MoU on behalf of their presidents.
Your comments and questions about our news are highly welcome at
ennews@atu.ac.ir
. Your emails will be answered as soon as possible.
Close
Search in ATU news archive
MORE NEWS

Nov. 19, 2018
Nov. 19, 2018
Nov. 19, 2018
Nov. 14, 2018
Nov. 13, 2018
News Archive